Positive news after police and crime commissioner visits Bude
Thursday 30th May 2019 8:40 am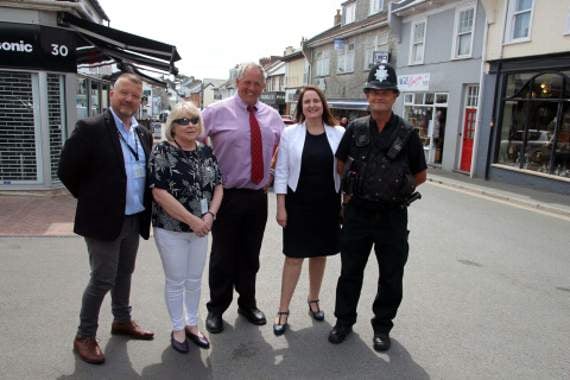 Pictured from left to right stood in Queen Street on Wednesday 15 are: Cornwall Councillor, Peter La Broy; assistant to Alison Hernandez; Bude's mayor, Cllr Willingham; police and crime commissioner, Alison Hernandez; and PC Phil Coop Picture: Paul Hamlyn
()
Subscribe newsletter
Subscribe to our email and get updates right in your inbox.
Police and crime commissioner Alison Hernandez recently visited Bude on Wednesday, May 15 to talk to some of the residents and local councillors about policing matters within the town.
Much has been said about the lack of police presence in the town and there have been recent calls to reopen the front desk of the police station.
Mayor of Bude, Cllr Bob Willingham, made it clear that the visit was very successful in getting some of the key points across. He said a day after the visit: "Alison Hernandez was in Bude yesterday to meet the public. Afterwards we walked around the town discussing police issues I felt should be addressed.
"There was no shift on getting the custody suite in Launceston open to try to reduce the time spent transporting 'prisoners' to be locked up, but an alternative scheme could be trailed called 'Street to Suite', where a private security company is called in to provide transportation."
In regards to the other key points, Cllr Willingham explained: "There is the chance that we could get some funding to help improve our CCTV network but the best news was that if enough support was shown it might be possible to get the front office at our police station open, manned by volunteers."
A statement issued form the Police and Crime Commissioner office said: "Alison Hernandez left Bude on Wednesday, May 15 assured that local people feel safe and have confidence in their police team, after hosting a 'Meet Your PCC event' at Sainsbury's in the town."
There are several pieces of legislation which place a legal duty on PCCs to listen to the public's views about policing and Ms Hernandez appear to take this duty very seriously — holding significantly more public events than any other PCC in the country.
Following her time in Bude, Ms Hernandez said: "It was a pleasure to visit Bude. We had a busy few hours talking to people at Sainsbury's and then as I walked around the town with local councillors."
The issues that were raised, such as the opening of the front dest at Bude's police station, which has been a reoccurring theme at Network Panel events and town council meetings.
Ms Hernandez responded to them and said: "There were a number of issues raised, including the opening of a front desk at Bude Police Station which is an operational policing matter which I will raise with the chief constable, and expansion of the town's CCTV capability which is something my office has been looking at in towns across Cornwall and Devon."
However, it was evident that people felt safe within the town.
Ms Hernandez expressed her delight at the news. She said: "I was heartened to hear that the people I spoke to felt safe in Bude.
"The Force has a good team in Bude which is led by Inspector Julian Morris, who is a local lad, the councillors I spoke to said they are confident about him dealing with issues. The team is also boosted by Adam Chapman, one of our new tri-service officers who provides a vital community service and is an effective way for us to work together with our partners from fire and health."
Comments
To leave a comment you need to create an account. |
All comments 0