At last! Green light for scout hut plans
Wednesday 17th July 2019 7:10 am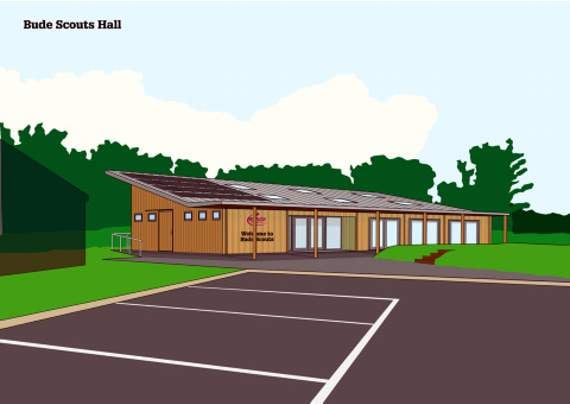 An artist's impression of the new scout hut. It will also have an adjoining car park.
()
Subscribe newsletter
Subscribe to our email and get updates right in your inbox.
AFTER almost 10 years of battling to obtain planning permission, the green light has been given by Cornwall Council planners for a new scout hut at Bude.
The scout group have kept the proceedings 'under-wraps', according to chair of Bude scout hut, Luke Graham.
In May, after almost a decade of trying, the group were granted the permission to start the build.
Luke, who is also a parent of a current member of the scouting group, is delighted.
He said: "We're at an exciting crossroads, we have had the planning permission come back and the site permission as well."
The new hut is to be built in a field, heading east away from the town's Morrisons supermarket.
The group is now able to begin its fundraising ventures in order to complete the build.
Luke said: "We had been apprehensive in our approach to go public with it because we didn't want people to pledge their money without the go-ahead from the council.
"We have a few adjustments to make before we can start building, but nothing major."
"We have the plot of land ready and the permission and that's something we've been trying to get for ages. Now that it's become a reality we really want to start building towards our target amount.
"We have been greatly supported by Bude Stratton Town Council who have pledged us some financial support, so we have definitely started to build the foundations so to speak.
"We are also looking to approach the likes of Blanchminster as well as organising our own fundraising events throughout the year."
According to Luke, the scout group need to raise an additional £180,000 to finish the build, but he is confident that they are now in a much better position to do so.
He added: "Things are healthy at the moment. We're a very driven team and have a lot of people onboard that are passionate about scouting."
A number of local professional services have offered their time to the scouts in order to finally make this long-winded project a reality.
Luke explained: "We feel as though we have the majority of the town behind us, we have had lots of people come forward and offer their help to us already.
"We have had plumbers, legal professionals and people just offering their time to come and dig some holes."
Luke believes that many of the people volunteering their time have previously been part of the scouting group during their own youth and want to give something back to the organisation.
Others have been parents of current scouts who want to see the group have a permanent home.
Cornwall Councillor for Bude, Peter La Broy has been in support of the new facility and is happy to see the progress.
"I am pleased that Bude 1st Scouts are busy with their plans for the new building at Coastview Community Land. There are a few challenges that I am trying to help them with and I am sure we will see them working on their new base very soon. I was very happy that planning permission was granted in May and look forward to our scouts having a purpose built facility that will meet their current and future needs."
If anyone wants to find out any more information, or how they can help email Luke at [email protected]
Comments
To leave a comment you need to create an account. |
All comments 0