Beach clean initiative started in Bude now 'more relevant than ever'
Wednesday 25th July 2018 9:30 am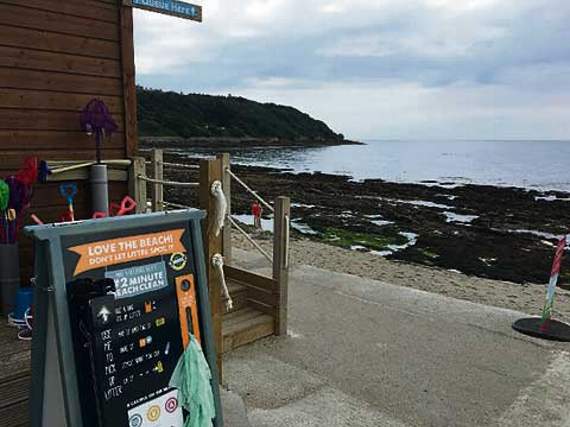 The #2MinuteBeachClean started in Bude in 2014, but has since grown across Cornwall thanks to support from CORMAC, Clean Cornwall and Corwall Council.
()
Subscribe newsletter
Subscribe to our email and get updates right in your inbox.
MORE beachgoers will be able to do their bit for the environment and help rid our coastline of litter after Cornwall Council teamed up with CORMAC and Clean Cornwall to support the popular #2MinuteBeachClean project, which began in Bude.
The three organisations have funded 24 #2MinuteBeachClean boards, which have now taken up residence at coastal locations from Penzance to Bude, bringing the total number of boards in Cornwall to 44. With more people than ever before aware of the impact litter has on the marine environment, the #2MinuteBeachClean boards make it easier for everyone to do their bit.
Each board is lovingly cared for by a 'board guardian'. Volunteers from a range of local businesses and organisations including beach cafes, tourist information centres, surf schools and community groups keep the boards stocked with litter pickers and bags or buckets. The boards are close to litterbins so that those taking part can easily dispose of any rubbish collected.
Last year, a council survey of beach litter revealed that 10% had been left behind by beach visitors, 60% came from fishing and shipping and 30% had deteriorated to such an extent that its origins could not be identified.
Cllr Sue James, cabinet portfolio holder for environment and public protection, said the survey highlighted the extent of marine and beach debris harms wildlife and damages habitats. She said: "Of course the best course of action is that people don't litter in the first place, but the #2MinuteBeachClean provides an opportunity for people to give whatever time they have to help make a difference and show others that litter is not on.
"If lots of people put in a little time it all adds up! While we have contributed towards the cost of the boards, we would not have been able to support this initiative without the help of our wonderful board guardians. This shows that the people of Cornwall really do care about their environment and want to play a part in keeping Cornwall beautiful."
Ben Pyle, from CORMAC, said: "Every contribution helps, which makes the #2MinuteBeachClean more relevant than ever. Every plastic item properly disposed of is one item less likely to find its way into the marine food chain. Every piece of discarded netting removed from a beach is one less chance of trapping a helpless animal. By taking responsibility, we can make our beaches safer and our seas cleaner, one piece at a time."
Amy Walker, community development officer from Clean Cornwall, said: "It's amazing how such a small idea has been picked up by a growing movement of individuals, groups, communities and businesses, all passionate about where they live and working together to make a difference for everyone. Our beaches and coastline are obviously a vital part of Cornwall, but it's important to also look inland to our towns, villages and countryside. Litter is a hazard for our wildlife and habitats here too and can easily end up in our waterways, adding to marine litter. To all those already doing their bit — a big thank you! To those thinking about it — look out for a beach clean or litter pick station, join in and love your cleaner piece of Cornwall!"
The #2MinuteBeachClean initiative began in Bude in 2014 and there are now more than 250 boards in locations across the UK. Founder Martin Dorey said Cornwall Council has long supported the #2MinuteBeachClean: "The partnership has been really strong, right from the beginning, as the council was very supportive in putting our first beach clean boards on beaches in Cornwall and trialling them. This proved that they worked and now we're coming full circle, because we're putting more and more out every day."
Find out more about the #2MinuteBeachClean initiative by visiting beachclean.net
Comments
To leave a comment you need to create an account. |
All comments 0