Bude litter hero gets supermarket on side with bodyboard recycling scheme
Thursday 11th July 2019 7:35 am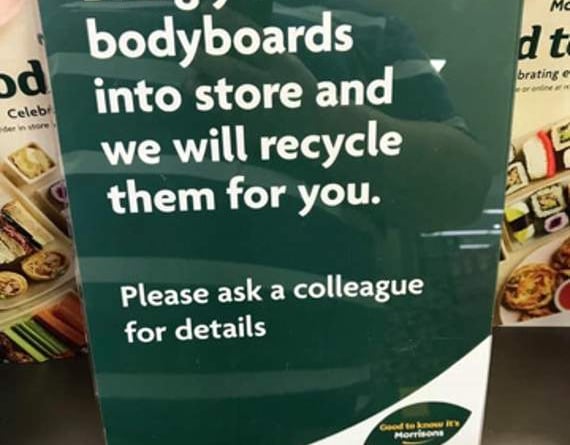 The sign now in Morrisons stores, encouraging customers to bring in their broken bodyboards to be recycled.
()
Subscribe newsletter
Subscribe to our email and get updates right in your inbox.
Paul Crum, a litter hero ambassador with Keep Britain Tidy and the founder of Bude Rubbish Action Group (BRAG), is responsible for the introduction of a new recycling scheme at Morrisons thanks to a simple idea.
Paul, who regularly picks litter around Bude each week, and has encouraged others in the town to do the same through BRAG, was concerned about the sale of cheap, polystyrene bodyboards at Morrisons' Bude store, aware of how they can break up and impact the environment.
This spurred him on to present a simple idea to Mike, the manager of the Bude store, in order to dispose of broken bodyboards effectively.
Paul's idea involved use of signage in-store to encourage customers to bring their broken bodyboards in to be recycled, as well as presenting the vital message to ensure customers know just how detrimental they can be to the environment, usually only lasting a matter of days or less before breaking and being thrown out.
"I noticed Morrisons had a range of surfboards and bodyboards for sale in their store," Paul told the Post.
"So I met with Mike, the manager of Morrisons Bude, and he was really positive about it. He thought it was good to hear of the impact these boards can have on the environment. He agreed that the boards could be taken back to the store to be recycled, and I also mentioned the impact of balloons — helium balloons — but that's another story. Mike said it was a brilliant idea, and that he was 100% behind us."
After discussions with his head office, Mike got back in touch with Paul to let him know the scheme would be going ahead: "I met with Mike about six weeks ago. I got the message from him on Friday to say that there would be a sign at the point of sale to say people can bring them (the bodyboards) back. Big signs will be up and they will be recycled."
As the boards often come wrapped in cellophane, Paul also hopes Morrisons will bring out a warning sign in the shop to illustrate how plastic and polystyrene can damage wild and marine life. "This hasn't happened yet, but I'm hoping it will come about in the future," Paul said.
Speaking about the new recycling scheme, he continued: "This is so good for Bude, and it's massive for BRAG too, to have a big supermarket like Morrisons take notice of what we're doing. From what I've been led to believe, this is not only going to roll out through the Bude store, but it could happen throughout the country. Morrisons have taken it on."
The recycling scheme will see customers bring in their broken boards, which will then be sent off with Morrisons' recycling to a central depot where they recycle their plastics.
Paul said: "We need to find out if the boards will be 100% recycled, as polystyrene is very hard to recycle."
Having recently been in touch with Neil Hembrow, Keep Britain Tidy's officer for the South West, there is now a skip available at Summerleaze beach in Bude, as well as Crooklets, providing two points for recycling by two popular local beaches.
Speaking about the continuing war against plastics and rubbish, which litters both land and sea, Paul continued: "We can stop this and the impact it has locally. As I always say, it's down to education.
"Hopefully this new system will work, and if it is national then that's even better. I'm over the moon that we have managed to get this underway. We're doing what BRAG does, which is education. We can all help. It doesn't take a lot to take a board back and recycle it.
"This is a big thing for BRAG, too. Now we've pushed this, Morrisons have said they have an open door for any of our ideas."
With all his work in Bude booming, Paul is also in talks with Holsworthy Town Council with the view to start a litter picking group there, and also works with local churches, the youth club and schools to spread the message to the younger generations.
"They are so enthusiastic because they're learning about looking after the environment at school, and can put it to practice by picking litter," Paul added.
To find out how you can get involved with litter picking in Bude, join the BRAG Facebook page.
Comments
To leave a comment you need to create an account. |
All comments 0