Cornish green ambassador with role in the climate conference recycles ocean waste plastic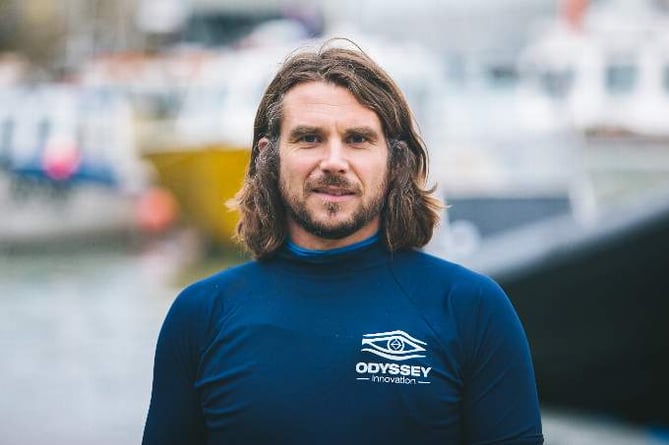 Rob Thompson founded the Cornish company Odyssey Innovation after arranging a beach clean by divers and recovering plastic waste from the sea.
Subscribe newsletter
Subscribe to our email and get updates right in your inbox.
When world leaders come to the UK at the start of next week to debate ways to tackle the climate emergency at a conference hosted by Prime Minister Boris Johnson and attended by members of the Royal Family, a South East Cornwall man will be one of the home-grown entrepreneurs suggesting ways forward.
Back at the end of July, Rob Thompson, who lives in Tywardreath, Par, was one of only 13 initial 'One Step Greener' Ambassadors chosen by Boris Johnson's Government ahead of the 26th United Nations Climate Change Conference of the Parties (known as COP26 for short) due to take place Glasgow from Sunday (October 31) to Friday, November 12.
Rob's Odyssey Innovation reuse of waste plastics company is based in Newquay, and its innovative ideas saw him being named as one of the ambassadors selected 100 days ahead of the start of the conference, and who were tasked with finding more people from their region with innovative green ideas.
Rob came up with the idea for his company after organising a clean-up of the seashore. In 2014 Rob pulled together a group of divers to clean up a cove in Cornwall and this led to thousands of pieces of plastic being recovered. Those involved then continued their environmental efforts by setting up a charity to recover underwater ocean plastic.
The company Odyssey Innovation was then established to pioneer the 'circular economy' by converting plastic from beach cleans and end-of-life nets retrieved from fishing communities into new products. The first product made was kayaks which were used in their 'Paddle for Plastic' campaign to encourage communities to collect plastic waste from otherwise inaccessible coves and waterways.
Another more recent product made from recycled marine plastic, recycled wetsuits, recycled RNLI life jackets and webbing from seat belts is handplanes for surfers. Other lines from the company are the World's only storage and litter bins made from recycled marine plastic.
The initial 13 COP26 'One Step Greener' Ambassadors like Rob were tasked with leading a nationwide search for the next 13 candidates, making a total of 26 green Ambassadors who will have their stories showcased at COP26. With this in mind, Rob called on Cornwall and the South West to nominate everyday climate leaders to help represent their region.
He said at the time: "I am going one step greener by actively playing a part in ridding the seas of plastic pollution to create a cleaner and more sustainable environment. What are you doing to go One Step Greener? Nominate yourself or someone you know that deserves to be part of the 26 for COP26."
The UK Government is calling on people from all walks of life to join the 'One Step Greener' movement on social media by sharing how they are doing their bit for the environment, championing climate leaders in their communities, and inspiring others to follow their lead. Whether big or small, one or many, green steps around the country can culminate in a large collective impact in helping make Britain a more sustainable place.
The 'One Step Greener' Ambassadors like Rob will showcase their stories at COP26 - which aims to be the most inclusive COP ever.
Prime Minister Boris Johnson said: "The UK has made huge strides towards a greener future, with new records in renewable energy and new targets for slashing emissions. But there are also thousands of people across the country doing their bit too, from embarking on green careers and building sustainable businesses to reducing their use of plastic and taking part in conservation projects. We can all do our bit to help tackle climate change."
When the COP26 World leaders meet in Glasgow, it will be with the aim of agreeing how to tackle the urgent threat of global climate change. The UK Government is working to prevent global temperatures rising above 1.5C and to protect the planet and people from the intensifying impacts of climate change which, if left unchecked, will lead to further catastrophic flooding, bush fires, extreme weather and the mass extinction of species. The UK was also the first country to commit to reduce carbon emissions by 78% by 2035 and the Government says it is on course to be the fastest G7 country to decarbonise cars and vans by 2030.