Double celebrations for Bude family as they raise over £11,000 for CLIC Sargent
Wednesday 9th October 2019 9:14 am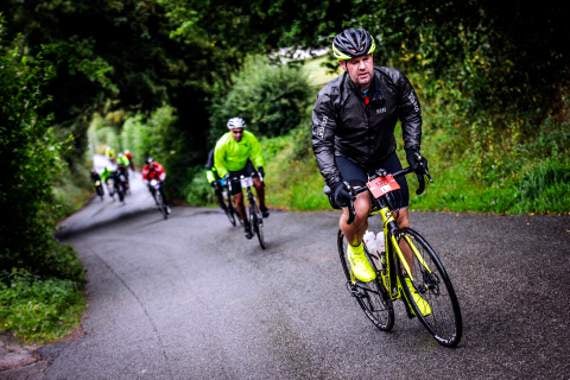 Nick cycling up one of the many hills during the Ride Across Britain.
Subscribe newsletter
Subscribe to our email and get updates right in your inbox.
BUDE's Nick Swan has raised over £11,000 for charity after completing the Deloitte Ride Across Britain last month.
Nick, 39, was raising money for CLIC Sargent as a thank you for the support they received since his daughter Isabel's acute lymphoblastic leukaemia diagnosis in May 2017.
Although five-year-old Isabel is now in readmission, she had chemotherapy treatment for 27 months alongside as many as ten blood transfusions and four bags of platelets over the course of just over two years. She initially began her chemotherapy at Bristol Children's Hospital — three hours away from home — where CLIC Sargent put the family up in the CLIC house so they could all be together.
Thankfully for Isabel, on Wednesday, September 25, just ten days after the end of Nick's ride, she was able to ring the bell to signal the end of her treatment.
The Ride Across Britain saw Nick tackle 980 miles over nine days, starting at Land's End before riding all the way up to John O'Groats at the top of mainland Scotland.
Despite the exhausting nature of the journey, Nick believes his preparation paid off.
He said: "Training went well, the organisers produced a plan which I tried to stick to. Although I'd done back-to-back days in training, I was a bit nervous beforehand about days three and four as it was unchartered territory.
"On the start line I was quite nervous but excited to get going as well. I knew that the first couple of days in Cornwall and Devon were going to be tough as there are lots of hills going up and down. But living in Cornwall and training with the hills paid dividends.
"Once I got past the first four or five days, I knew I'd be able to finish it unless I had a crash or got ill."
The early stages of Nick's ride saw him garner plenty of support, as well as a special moment for his daughter.
He said: "Days one and two were really nice as my family were able to support me on the road. They went as far as Tiverton on the second day. After that I was sort of on my own for the rest of it.
"But one of the highlights was on the evening of the second rider briefing. The organisers told everyone about Isabel's story and she got a big round of applause from everybody.
"Isabel was at the start line on the second day at Okehampton and lots of people were there telling her how awesome she is which was amazing.
"The camaraderie was also really good. If someone got a puncture, there were always offers for help. As well as that, the scenery in Scotland was amazing, although the hills were tough and long, especially with 700 miles already in your legs."
Nick added: "Finishing in John O'Groats was a great feeling, although a bit sad as you get used to the routine of everything.
"But the event was so well organised. All we had to think about was was the riding and eating, and the food was really, really good. We were using between four and 5,000 calories a day, so we had to eat a lot to build that back up."
Nick only had a few issues to deal with.
He said: "Day three it rained all day between Bath and Ludlow. The hills in Scotland were also tough, with some strong winds making the descents a bit nervy. I also got saddle sores and sore knees. I had to get my knees taped up by the physios on most days, but overall it went really well. I'd also like to thank my brother Andrew who came up and picked me up."
While the ride was good, the superb amount raised, is the most important.
Nick said: "The initial goal was £5,000 so getting to £11,500 has been amazing, to be able to help other families who have to go through what we've been through.
"There's some local and national businesses which I'd like to thank.
"Morrisons, who ran a fundraising day where we cycled 90 miles on an exercise bike, which raised £700, https://www.2yoo.uk/ who donated £1,000, The Gallery, Bude, who did a fundraising pirate boat on the canal which people could throw money on to, which raised £700 and The Rowse Family Trust, who donated £2,000.
"Finally I'd also like to thank family, friends and the Bude community for their support, not only during and before the race, but also during Isabel's treatment."
Comments
To leave a comment you need to create an account. |
All comments 0