Ladies shake their tins at supermarket for CHSW
Thursday 9th May 2019 8:15 am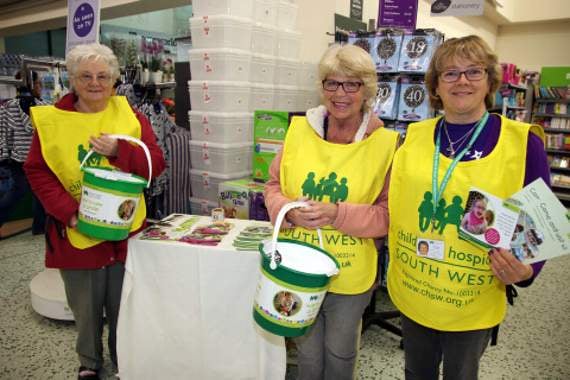 Volunteers collecting for Children's Hospice South West were at Morrisons store in Bude on Thursday, April 25. Pictured from left, Jenny Balsdon, Di Creese and Eileen Rendle. Picture: Paul Hamlyn
()
Subscribe newsletter
Subscribe to our email and get updates right in your inbox.
Led by Eileen Rendle, a psychic medium, who runs the Bude Wyvern Friends Group, Children's Hospice South West is a charity that is held close to Eileen's heart.
On Thursday, April 25, Eileen gathered some group members, including Mary, Brenda, Jenny, Diana, Lyn, Sylvia, Pauline, Susan, Tanya, Rona and Maggie, and headed to Bude's Morrisons store to hold a bucket collection for two days, where people could drop their spare pennies in as they made their way in and out of the store.
The ladies managed to raise £1,001.74 in total — the first time they have got over £1,000 in a fundraising event.
Eileen said: "I've done a lot of fundraising for Children's Hospice and I found a group myself in 2005 after I was asked by the hospice if I could form a group in Bude."
Eileen has held coffee mornings, craft fairs, dance sessions, bucket collections and psychic suppers to raise these important funds for the charity.
The cause is particularly close to her heart as her two grandchildren have both been subject to illnesses, which are controlled by medication, where they had to spend time in both Barnstaple and Bristol children's hospitals.
"They're in better health with medication, but I know that feeling when you would get a phone call and you didn't know what was going to happen," Eileen continued.
"So I've thrown my energy into fundraising for the families who do need respite."
The money helps to keep the three South West hospices running as it costs £10-million a year. There, they provide respite care for entire families, taking care of poorly children and giving the parents and other children time together. There is a wealth of care, from provided emergency care, end-of-life and bereavement support.
Eileen also takes people on tours around Little Bridge House in Barnstaple, where she tells stories of the families who have spent time there, and shows how fundraising really helps. Eileen says she has waited to do this for 15 years, and undertook her training in January.
Next up for Eileen and the fundraising group, they will be meeting at Bude's triangle on Wednesday, May 29, where they will provide nail painting, cakes and knitting, bric-a-brac and books and a card reading session with Eileen herself.
Eileen added: "It's lovely for people to know how much we have collected in those buckets and the work that goes on in the area."
To find out more about any guided tours of Little Bridge House, call Eileen on 01288 356 802 or phone Little Bridge House and book a tour on 01271 325 270, where everyone will receive a very warm welcome.
Comments
To leave a comment you need to create an account. |
All comments 0