Links to Kilkhampton War Memorial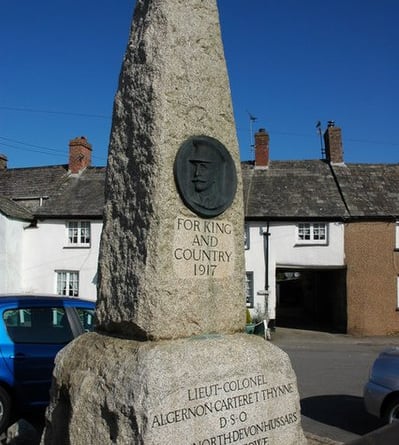 War Memorial in Kilkhampton War memorial in the centre of Kilkhampton to Lieut-Colonel Algernon Carteret Thynne who was killed in 1917
(Wikipedia Commons: Philip Halling )
Subscribe newsletter
Subscribe to our email and get updates right in your inbox.
BACK in April the Post featured a Times Past item sent in by Roger Pyke of Launceston Then!, namely an old picture of vintage cars parked next to the memorial to Lieut Colonel Algernon Carteret Thynne in the centre of Kilkhampton.
We asked if anyone knew any information about Lieut Colonel Thynne and his war service and were recently advised by areader to contact 99-year-old Margaret Colwill, whose father, Ernest Alan, actually served in the same Royal North Devon Hussars regiment as Lieut Col Thynne.
Margaret, who is due to celebrate her 100th birthday on October 4, said that in the early years of the First World War her father sailed with Lieut Col Thynne for the Aegean Sea from Clacton in Essex and they landed at Sulva Bay on the Gallipoli Peninsula in what was then the Ottoman Empire and is now Turkey.
The Landing at Sulva Bay which Lt Col Thynne and Margaret's father Ernest took part in was part of the August Offensive in which the British aimed to break the deadlock of the Battle of Gallipoli. The landing at Sulva Bay began on the night of August 6, 1915, and while ultimately successful, although it soon reached the same stalemate as the other campaigns in the area.
Margaret told me that her father returned home to North Cornwall in 1916 and when he and her mother - whose name before marriage had been Ada Grace Piccard of Stratton - had their first daughter (Margaret's elder sister by five years) in 1917, Lieut Colonel Thynne's wife Constance was her godmother and particularly asked the couple that their baby daughter be named Sulva after the battle, a request which they complied with.
Lieut Col Thynne had also made clear his wish that Ernest and his family be given a farm on the Grenville Estate which he had inherited from his father in 1910. He had earmarked a particular farm for the Alans but in the end a neighbouring family who had a member with health problems thought likely to benefit from higher ground and fresher air asked if they would 'do a swap' and take Burridge Farm west of Kilkhampton instead.
Ernest outlived his Lieutenant Colonel and benefactor, as Algernon Thynne was killed in action in what is now Israel on November 6, 1917. Margaret said that members of her family still own Burridge Farm today and have restored and converted many of the old buildings and barns into 'quite a little community'. Margaret's husband, Leslie Colwill, farmed there for many years but died in 1992. One of Margaret's sons, David, now lives with her in Kilkhampton while her other son Peter continues to farm. Meanwhile Margaret's nephew Luke Francis is the well-known postmaster at Bude Post Office.
Margaret was born four years after the end of the First World War in 1922 but she remembers the hard years of the Second World War which saw her going to work on the land near Cleave Camp - now a GCHQ monitoring station but during the war an RAF airfield. When I asked if she'd worked with landgirls she said she hadn't had much contact with them but she had surprisingly fond memories of the German prisoners of war who were brought to work on the local farms - she said many of them had been quite young and were 'lovely boys', adding that it hadn't been their fault that they had been sent to war. She also has memories of the evacuees who were sent from the cities to remote North Cornwall. She said many of them had found the move hard at first but then took to life in Cornwall - but then there were often problems when their parents came down from London for a visit, provoking feelings of homesickness among their offspring and also often making demands on the families looking after the children.
As for Lieut Col Thynne, the memorial in the centre of Kilkhampton is not the only memorial to him as there is also a bronze sculpture of him dressed in field service uniform and mounted on a horse inside Kilkhampton's St James's Church. The bronze sculpture is positioned next to a stained glass window commemorating the Grenville family whose estates the Thynnes inherited and is atop a marble tablet on which bronze plaques outline his military career. The Grenvilles, whose main home had been in the Bideford area, earned royal favour after playing a major part in the Restoration of King Charles II in 1660 and built a grand brick mansion near Kilkhampton called Stowe House which was much admiredfor its architecture. However, after the family died out in 1739 the grand house was demolished and its masonry and decoration was 'recycled' by being used elsewhere - including a major part of South Molton Guildhall. Today the walled yard ion Stowe Bartonstands near the scant remains of the mansion.
The Grenville estate subsequently passed to the Thynne family, a junior branch of the family of the same name owning Longleat in Wiltshire and who were created Marquesses of Bath. Lieut Col Algernon Carteret Thynne, who was born in 1868, had as his grandfather the Rev Lord John Thynne, Deputy Dean of Westminster and third son of Thomas Thynne, 2nd Marquess of Bath. Algernon's own father, Francis John Thynne, of Haynes Park, Bedfordshire, and 67 Eaton Place, London, was lord of the manors of Kilkhampton, Stratton and Binhamy, while his mother was Edith Marcia Caroline, eldest daughter of Richard Brinsley Sheridan of Frampton Court, Dorset.
Algernon was educated at Charterhouse School and then went straight into the Army, becoming a Captain in the Bedfordshire Regiment (3rd Battalion). He then went from Bath to serve as a Lieutenant in the North Somerset Yeomanry in South Africa during the Boer War campaign of 1899-1902 and while there became a Captain of the 7th Battalion Imperial Yeomanry. He took part in operations in the Transvaal in May and June 1900 and in the Orange Free State from February to May 1902 and was twice mentioned in despatches and received the Queen's Medal with four clasps, the King's Medalwith two clasps and was created a Companion of the Distinguished Service Order.
In August 1902 he became Honorary Captain in the Army and was transferred in 1903 to the North Devon Hussars. In 1904 he married his wife Constance, who was the widow of Francis Philips of Lee Priory in Kent. In 1910 he inherited the Grenville Estate in North Cornwall following the death of his father Francis and before the First World War became an Aldrman of Cornwall County Council, a Magistrate for Cornwall and Master of the Tetcott Hounds. After taking the Landing at Sulva Bay and taking part in the Gallipoli campaign, Algernon also saw service in Egypt and Palestine before falling mortally wounded on November 6, 1917, at the Battle of Hareira and Sheria, where the Egyptian Expeditionary Force of British, Australian and New Zealand troops ultimately trumped over Ottoman and German forces.
Lieut Colonel Algernon Carteret Thynne now lies in a war cemetery near Bersheeba in Israel but memorial services were held for him and those whohad died serving with him st St George's Church, Hanover Square, London and at the parish church of Stratton in Cornwall.
Comments
To leave a comment you need to create an account. |
All comments 0