Navy friends reunited through Post article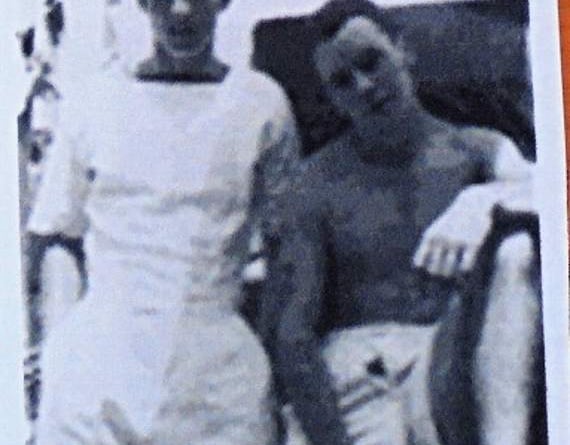 Peter Meakins (standing) and David 'Syd' Morris onboard HMS Dartington in 1963
()
Subscribe newsletter
Subscribe to our email and get updates right in your inbox.
TWO former Navy friends have been reunited via the Post.
Mr David 'Syd' Morris contacted us after spotted an article online from 2010 entitled 'Boyton man receives medal from Malaysian Government'.
The Boyton man in question was a Mr Peter Meakins, who was a former Navy buddy of Mr Morris, and someone he had been trying to reconnect with for many years.
Mr Morris said: "Peter Meakins and I served together in HMS Dartington in 1963/1964, both of us in communications.
"Dartington was a Ton class coastal minesweeper with a crew of just 32. The ship was based in Singapore and we spent much of our sea time in the waters round Borneo during the Indonesian Confrontation. I was the ship's signalman and Peter was the radio operator so between us we provided the ship's communications. We had a close working relationship and we were good friends.
"We met up a few times afterwards but lost contact many years ago. Peter was one of my special colleagues and friends in the Royal Navy and I have been searching for him for a long time. Would it be possible to make contact with him via your paper?"
The Post was only too happy to try and help reunite these long lost friends. A call was put out through our Letter's page in mid-July, and eventually someone responded with a lead.
By the end of the month, Mr Christopher Darwin of Bridgerule had contacted the Post, with some interesting information. He said: "I was intrigued to read about HMS Dartington in 1963/64.
"I was a very junior officer on board for about six months in that period and remember David Morris whom I think was a Leading Radio Operator. 
"We were based in Singapore but spent much time off north Borneo helping to keep Indonesians out during 'Confrontation' by patrolling the sea routes into Sarawak.
"Please send him the compliments of Midshipman Darwin and suggest that he tries the TON class minesweepers association's website (tcaminesweepers.co.uk). He probably knows all about it already, but worth trying."
Mr Morris was thankful for this lead, however, he soon reported back that the website search had been unsuccessful — and so the search for Mr Meakins continued.
More than a month passed without a word before this story continued. Luckily, a keen-eyed Post reader and former Boyton neighbour of Mr Meakins, spotted the letter and passed on a copy to their friend.
Mr Meakins, who now lives up country, then contacted the Post himself to say he would be more than happy to strike up a conversation again with his old pal.
He said: "The letter it titled 'Navy man searches for friend'. The author is David 'Syd' Morris and he is seeking to establish contact with a Peter Meakins, I am he. Yes we did spend time together as members of the crew of the 'Ton Class' minesweeper HMS Dartington, and at the time we were great friends. As Syd says we did meet up after that time but lost contact after I left the Royal Navy in 1979. I would be more than happy to re-establish contact if you could possibly give me further details on how to do so."
The pair have since corresponded and a delighted Mr Morris told the Post: "In 1963 we flew back to the UK together and went our separate ways. The last time we met was in Portsmouth in 1970 and when I left the navy in 1988 I often searched for Peter with no success until I found the article in your paper. I contacted the editor and that led to Peter phoning me and renewing our friendship. I am most grateful to your paper for making this possible."
Comments
To leave a comment you need to create an account. |
All comments 0