New Master for Granville Lodge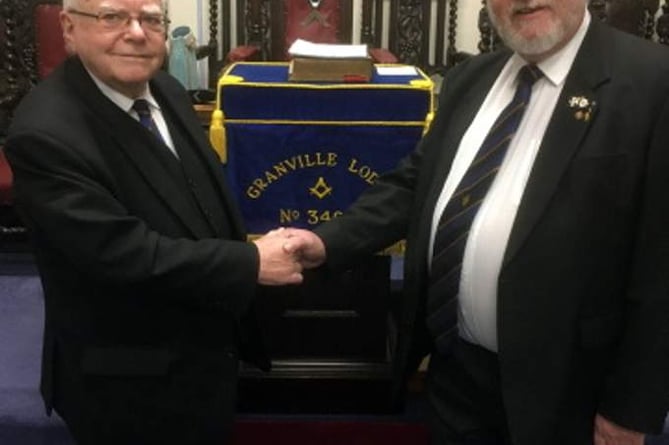 Andrew Bain the Master Elect and Graham Shepherd-Jones the current Master of Granville Lodge
Subscribe newsletter
Subscribe to our email and get updates right in your inbox.
THE next worshipful Master to preside over Granville Lodge No.3405 which meets in Bude was chosen at the regular meeting of the lodge held on Tuesday, March 15.
He is Worshipful Brother Andrew Bain who is currently senior warden of the lodge. He will be installed into the Master's chair by the current Worshipful Master Graham Shepherd-Jones at the next meeting which will be on Tuesday, April 19.
Graham has held the office of Master for an extended period due COVID restrictions limiting the number of meetings and has presided over all social and formal events with great distinction. He has been a very able and popular member of the lodge and will take up the role of immediate past Master at the April meeting.
Andrew Bain is a very experienced Freemason and is a past Master having occupied the chair of his London lodge prior to moving to Cornwall. He is a member of a number of other Masonic Orders in the London area and is currently the secretary of St Botolph's Lodge No.2020 which meets at the headquarters of the United Grand Lodge of England at Great Queen Street in London. The members all congratulated him on his selection and wished him a very happy and successful year as Master of Granville.
A large amount of administrative business in preparation for the forthcoming year was completed and reports from the treasurer, almoner and charity steward were presented.
The members welcomed Worshipful Brother Nick Underhill who is the lodge's allocated 'provincial visitor'. It is one of the ways of keeping lodges in touch with provincial matters and ensuring all lodges are well run and not in need of any assistance. Following the meeting the brethren dined together and the usual Masonic toasts were observed. Nick in, replying to his toast, congratulated Andrew and said he had had a most enjoyable evening and thanked the members for the warm welcome and hospitality.
Further information about Freemasonry in Cornwall can be had by phoning 01872 276191 or by going to [email protected]
Comments
To leave a comment you need to create an account. |
All comments 0