Ashwater says no to more houses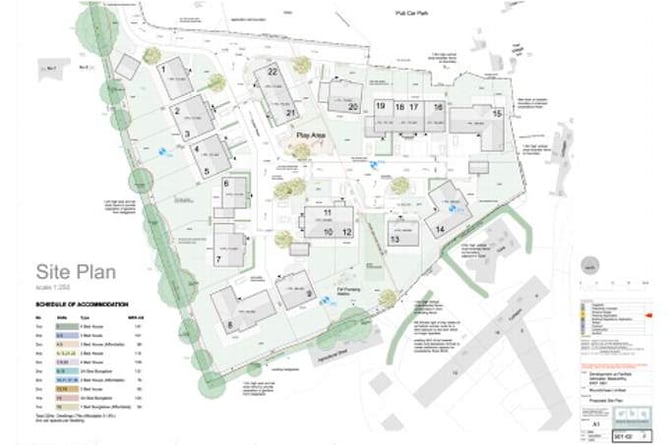 The proposed development would see 22 additional homes built in Ashwater. Picture: Graeme Barclay Architect
Subscribe newsletter
Subscribe to our email and get updates right in your inbox.
A VILLAGE in Devon is hoping to overturn the planner's decision to allow 22 homes to be built on their doorstep, which they say is an over development of the area and poses a significant flooding risk.
The village of Ashwater has been fighting a planned development since 2017 that would see 22 houses built on land south of Fairfield just off its village green.
As reserve matters are being discussed by Torridge District Council's planning team, the Ashwater Residents' Group, who are leading the charge against the development, have submitted a new objection alongside the countryside charity Devon Campaign to Protect Rural England (CPRE).
Lead members of the Ashwater Residents' Group, Gwen Fautley and John Dagnall have been working hard alongside other residents to maintain the integrity of their village and want to see this proposal overturned.
Their main concerns are that of over development and the flooding risk posed to the existing properties nearby.
They say the development will increase the size of Ashwater by over 20% and place a high-density urban residential area in its centre — just off the village green.
The group say this site is not suitable for development as previous planning applications have been refused due to flooding concerns.
The Environment Agency report shows that properties surrounding the land are at "high risk" from surface water flooding. Villagers are concerned that no discussions have taken place between the developer and existing residents to ensure they will not be subject to flooding.
On behalf of the group, Gwen said: "We saw your recent report [page 23, January 5] regarding the houses at Halwill being refused and wanted to highlight the similar plans we have in Ashwater. This has been ongoing since 2017.
"Permission was granted for 22 homes despite a lot of opposition from the villagers. We are still campaigning but we are not getting anywhere. The developer has refused to come to the village and discuss it.
"There are major flooding concerns, which have been the main reason for refusal in the past. We expected houses would be built there one day but not in this volume."
However, the Design and Access statement suggests the site is located in "Flood Zone One" and is "therefore not subject to flooding from groundwater, surface water or fluvial flooding".
A request was made by Devon County Council's Flood and Coastal Risk Management Team for the applicant, Mr Graeme Barriball (Roundchase Limited), to submit additional information in order to demonstrate that all aspects of the proposed surface water drainage management system have been considered.
In response, the architect, Mr Graeme Barclay, said: "Our drainage consultants Clarkebond designed the drainage scheme to accommodate exceedance flows, even before the suggested infiltration pond was introduced. Their comments reported to you in my letter dated 22/11/21 stated: 'Whilst it is believed that the current design (which directs flows to rear gardens and an existing ditch system) provides sufficient mitigation for potential exceedence flows (which would only occur in excess of the one in 100-year +40% Climate Change scenario) we note there are additional opportunities which could be pursued onsite to further mitigate this extremely minimal risk.'
"The infiltration pond was therefore only added to give additional protection over and above the minimum requirements, due to neighbour concerns."
The Ashwater Residents' Group has since taken its case to Devon CPRE in hope of gaining their support.
Subsequently, the charity submitted its own objection to Torridge District Council on Monday, January 10, which says: "Since the original grant of outline planning permission in 2017, the emphasis placed upon proposals delivering high-quality development and biodiversity net gain has been increased, both at national and local planning policy level — this scheme fails to address these points sufficiently to warrant approval...The application cannot be determined without a supporting DEFRA metric calculation to accord with local planning policy and a full understanding of how biodiversity net gain is being delivered — if not supported on site, how can it be compensated for off-site etc?"
Devon CPRE director Penny Mills added: "As highlighted by the extent of community opposition to the scheme, and the failure to undertake community engagement for the current proposal (the Design and Access Statement references a community consultation exercise undertaken in 2016), the applicant has failed to consider national planning policy in this respect.
"As such, the submitted scheme fails to demonstrate the delivery of a high-quality scheme securing gains across the three objectives of sustainability: economic, social and environmental, contrary to national and local planning policy."
The Post has contacted the applicant for further comment.
Comments
To leave a comment you need to create an account. |
All comments 0