Plans to mark World Animal Free Research Day
Thursday 20th May 2021 2:45 pm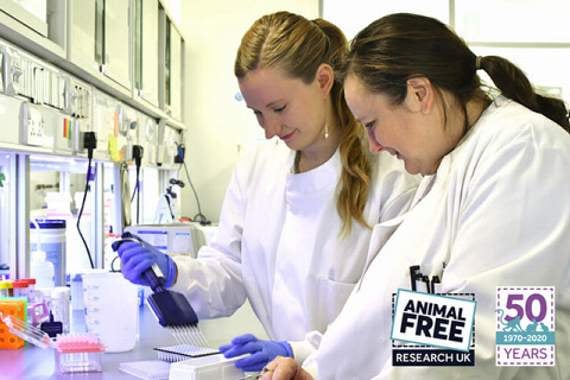 Subscribe newsletter
Subscribe to our email and get updates right in your inbox.
TO MARK the inaugural World Animal Free Research Day on May 27, both Bude's Morrisons and charity Animal Free Research UK are teaming up as part of an awareness week.
Animal Free Research UK, whose patron is actress Joanna Lumley, is leading the call to modernise medical research and the annual event highlights the urgent need to modernise outdated regulations.
Current laws allows over three million animals — including mice, rats, dogs, cats, rabbits, primates and horses — to be used in medical experiments seeking cures and treatments for human diseases.
"That's six animals used in research in UK labs every minute of every day," said Animal Free Research UK's community ambassador Steph Jones-Giles. "Yet 90% of new medicines that look promising in animal tests fail in human trials because they are unsafe or do not work in humans due to significant differences in our genetic makeup."
She added: "Available new lab technology gathers more accurate data faster and cheaper. But outdated regulations demand all medical research must involve animals.
"So we're using World Animal Free Research Day to rally all those in the town who care for animal welfare to join us in supporting this important issue."
Monies raised will be donated to Animal Free Research UK's Animal Replacement Centres, or ARCs, where pioneering scientists design and use modern technology instead of animals to research heart disease, brain tumours, leukaemia, dementia, breast cancer and diabetes.
Money raised in-store will go to the charity's South West ARC at Exeter University.
"We are very grateful for the support provided by the people of Bude — and we greatly appreciate the time and effort required to raise funding, especially during the current pandemic," said University of Exeter Medical School's professor of molecular genetics, Lorna Harries. "Their support allows us to continue to develop our groundbreaking, human-relevant research on diabetes and other age related diseases — as well as our ongoing COVID-19 testing project.
"Only by putting our efforts behind the development of these new animal-free approaches will we be able to move towards a situation where the use of animals in medical research is no longer warranted or accepted."
Animal Free Research UK is the nation's leading non-animal medical research charity, funding alternative research methods and lobbying the Government to phase out animal testing.
The charity's CEO Carla Owen said: "The amazing work of the people of Bude and the generous support of Morrisons for our World Animal Free Research Day is not only a boost for ending animals use in medical research, but a showcase of community spirit in action."
She added: "Bude and Morrisons have forged a template for others across the nation to shine the community spotlight upon the cruel use of animals in British laboratories for little human benefit.
"Together we are creating powerful change and can make Britain an inspiring world leader in ethical research that finds cures for diseases and save the lives of humans and animals."
Nichola Wickenden, Community Champion for Morrisons Bude, said: "It's important that we raise awareness about animal free research. They are a fantastic charity to have in-store and I hope they have a successful week fundraising.
"Between May 24 and May 28 there will be an information hub, collection buckets at the till and staff wearing charity t-shirts. On May 27 there may even be a few of us in animal costumes to mark the occasion."
Other activities planned include a virtual pantomime by the ever-creative residential care home, Nos Nom.
Penny Baxter said: "'An Excuse for a Panto' was an idea that team Nos Nom had in January. After a whole year of not going to the theatre we wanted to do something about it, so we decided to write, make props, act out and film our own pantomime for us and now others to enjoy."
Last year Team Nos Nom raised over £1,600 for Animal Free Research UK by doing a crazy 26 challenges in May. With that in mind, the team wanted to offer something a little different this year. If anyone would like to see the panto, donation can be made through the JustGiving page www.justgiving.com/fundraising/mike-hodgetts then people need to email [email protected] and a link will be sent. The panto will be available to view between May 22 and 29 to coincide with the awareness week.
Steph added: "Since we formed in November 2015 we have raised over £33,000 for animal free research. We could not have done that without the amazing support of the community."
Comments
To leave a comment you need to create an account. |
All comments 0