Government 'has lost trust of farmers over payments' warns NAO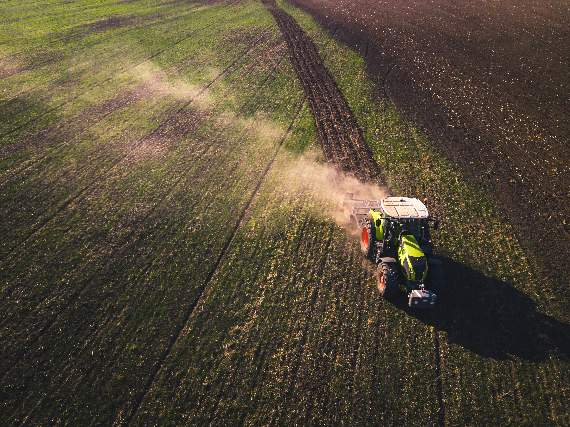 Subscribe newsletter
Subscribe to our email and get updates right in your inbox.
The Government has "lost the trust of farmers over agricultural subsidy payments" says the National Audit Office, which is warning that the changeover from the Basic Payments Scheme to the new Environmental Land Management (ELM) programme is under threat – and could leave farmers out of pocket.
In a new report published today, the NAO says that core elements of Defra's new environmental grant schemes are not yet in place, with a risk to the initial roll out planned for 2022.
Only 5% of the 44,000 eligible farmers responded to Defra's call to take place in a pilot for the Sustainable Farming Incentive (SFI), a payments scheme which is supposed to go live nationwide next year.
But Defra says it is carrying out consultations and speaking to farmers about all aspects of ELM and that it has an 'ongoing dialogue with farmers and experts' through blogging, visiting agricultural shows, and taking part in regular question and answer sessions.
It says that in the second half of this year, it will be continuing its programme of co-design, tests, trials and piloting – and anyone interested to get involved should email [email protected]">[email protected].
Defra says it is increasing and improving the way it communicates, so that everyone who is taking part in the design of the new ELM scheme can see how their time and effort is making a difference, and see how the department is balancing the range of views and evidence and coming to decisions about scheme design and delivery.
Environment Secretary, George Eustice said: "Our future agricultural policy will move away from the arbitrary land subsidies and top down bureaucracy that epitomised the EU era. We will incentivise sustainable farming practices and reward farmers for the environmental assets on their land.
"The NAO recognises that we have made good progress but we will be addressing some areas where there have been misunderstandings in our full response to the report."
Under the EU's Common Agricultural Policy (CAP), English farmers received around £2.4 billion annually. Approximately 80% of this was distributed through the Basic Payments Scheme (BPS), which provided direct payments to farmers. Following Britain's exit from the EU, the Government is phasing out these direct payments over seven years, starting in 2021.
While there is considerable uncertainty over the financial impact this will have on farmers, says the National Audit Office, Defra's analysis indicates that the average net profit made by farms in England between 2017 and 2020 would have been 53% lower without direct payments.
Defra is currently developing the Future Farming and Countryside Programme, which it considers a "once in a generation opportunity to reform agriculture". Central to this is the Environmental Land Management scheme (ELM), which will pay farmers for undertaking actions that improve the environment through the Sustainable Farming Incentive (SFI), and the Local Nature Recovery and Landscape Recovery schemes.
Defra is piloting SFI and had invited farmers across the country to take part, envisaging that between 5,000 and 10,000 expressions of interest would be received.
In the event, only 2,178 responses came back from farmers, a rate of just 5% of the 44,000 eligible, says the National Audit Office.
Defra will therefore start the pilot with an initial cohort of up to 1,000 participants from next month – a number which it says is a "heathy pipeline" to test the many aspects of the SFI programme, which is due to begin in 2022.
But the NAO says that a continued low level of interest could threaten Defra's environmental ambitions. The scope of the roll out of SFI next year has been reduced.
A spokesperson for the NAO said: "Defra has made progress in several important areas of ELM's development and design since we last reported in 2019. This is despite resourcing challenges caused by ongoing EU Exit work, and the need to respond to the COVID-19 pandemic.
"But Defra has not yet established objectives to support its high-level vision for ELM. The outline business case for ELM sets out 24 objectives related to the government's 25-Year Environment Plan and net zero carbon ambition, but these are described as provisional. HM Treasury guidance requires more specific strategic policy objectives to turn the vision for ELM into an implementable programme."
"Despite adapting its engagement plans during COVID-19, Defra has not yet regained enough trust from farmers to be confident in achieving a high level of participation in ELM. Defra lost farmers' trust as a result of difficulties with its management of past agricultural subsidy schemes. Delays in informing farmers which actions they will be paid for in the SFI pilot and (the roll out in) 2022, and how much they will be paid, have made matters worse. Defra sees rebuilding trust as vital, but both the NAO's and Defra's own evidence show it has not yet succeeded."
Gareth Davies, the head of the NAO said: "The success of the Environmental Land Management scheme depends on securing participation from farmers. Defra has not yet set detailed objectives for the scheme and has been slow to provide information on what farmers can expect from it. Defra must now develop detailed plans for the scheme's delivery if it is to achieve its intended environmental goals."