Lifesaving skills taught on refresher course
Wednesday 14th June 2017 10:12 am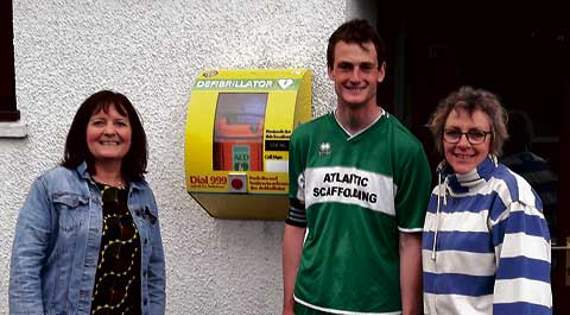 Sarah Bryant, Bradley Olde and Sharon Olde at the refresher day.
Subscribe newsletter
Subscribe to our email and get updates right in your inbox.
A REFRESHER session on CPR helped raise hundreds of pounds as well as taught people potentially lifesaving skills.
The session on May 21 at Morwenstow Community Centre was attended by around 40 people of all ages and raised £390, which will be split between the Devon Air Ambulance and British Heart Foundation.
This refresher session followed on from a popular 'Save a Life, Save the Day' event last January organised by Sharon Olde, who wanted to highlight the importance of first aid knowledge after her son, Brad had a cardiac arrest two years ago.
Brad was helped by his neighbour, a trained coastguard, who applied CPR, and the refresher session highlighted the importance of knowing potentially lifesaving skills.
Many people who attended the refresher session thanked Sharon and Brad for holding the event as they said they learnt a lot by being there. People who attended last year and came again benefitted from a refresher and remarked that hopefully this will be a yearly event.
During the session, Sarah Bryant made a presentation on Check Your Pulse for the Arrhythmia Alliance UK and paramedic Justin Sharples gave a presentation and film on why and when you use CPR and the difference between a cardiac arrest and heart attack.
Sharon said: "I think it opened people's eyes when the paramedic said that only 8% of people in the Westcountry survive a cardiac arrest and 10% nationally."
Brad said: "During the early stages of 2015 my life before my cardiac arrest on May 12 was going brilliantly as I had just come home from two months' travelling experience in Australia, I had completed two ski seasons, had a couple of outdoor active jobs, had a long term girlfriend and crucially, I had been accepted to join the Royal Navy.
"I therefore believed that it is safe to say that I was flying through life as a young man, I was very happy with the life that I had and the thought of ever having a life changing injury, let alone a cardiac arrest, had never crossed my mind.
"Therefore, from having to do the simple things at the start, like learning how to walk and talk again it's safe to say that the past two years have been both physically and emotionally difficult, having things which I previously took for granted like my driving license taken away from me."
He added: "However I do feel like my recovery has gone extremely well as I can feel myself physically improving a huge amount since my injury.
"If bystanders who witness a cardiac arrest perform CPR, sufficient blood containing oxygen will reach the brain, heart and other organs to keep the person alive for several minutes. CPR by itself will not restart the heart, but it 'buys time' for the emergency medical services to reach the scene. Effective CPR more than doubles the chance of someone surviving a cardiac arrest. So there can be absolutely no doubt that the CPR that I was provided with played a major part in saving my life that day."
Sharon and Brad expressed their thanks to the volunteers who gave their time helping to train others and to the people who baked cakes and brought in raffle prizes.
Comments
To leave a comment you need to create an account. |
All comments 0