People from the Post area part of historic train journey 50 years after rail services cut
Wednesday 22nd March 2017 1:00 pm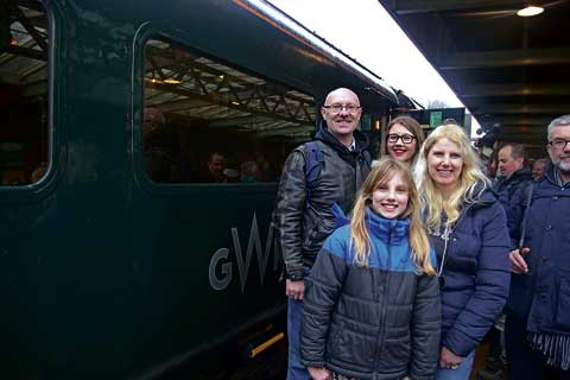 The Burns family from Launceston about to board the train to London. Picture: Paul Hamlyn
Subscribe newsletter
Subscribe to our email and get updates right in your inbox.
THERE was a 'buzz' of excitement on the first train from Okehampton to London Paddington in 50 years on Saturday — despite a slight 'hiccup' meaning a change of trains at Exeter.
The sold-out journey set off from Okehampton at 7.45am on the 'Royal Oke' on Saturday morning. A scramble for tickets on what should have been the first direct London train service since they were cut at the end of the Beeching era half a century ago meant they sold out within a week.
Unfortunately, a flat spot on the wheels developed, which Michael Ireland, chair of the OkeRAIL CIC, said meant although the train could have carried on to London, it would have had to travel at 'a much reduced speed'.
Following a change of trains at Exeter, the 500 passengers continued on to London Paddington, arriving around only 35 minutes behind schedule.
There, Dr Ireland and OkeRAIL colleagues, along with Cllr Rev Mike Davies, chairman of OkeRAIL Forum and a West Devon Borough Councillor for Okehampton North, and Central Devon MP Mel Stride, met with MP Paul Maynard, Parliamentary Under Secretary of State at the Department for Transport.
Dr Ireland said: "We had a half an hour interview with Paul Maynard. I was asked to put forward the case for the economic needs for the line to come back to Okehampton. I stressed that we mustn't talk just about Okehampton, it's important to talk about the whole North West of the peninsula — including Launceston and Bude. The minister took that on board.
"This is very much a cross border initiative to bring connectivity back to the whole of the North West of the Devon and Cornwall peninsula.
"If you draw a line on a map from Bridgwater to Newquay there is no other railway line apart from a little bit of the Tarka line. He took away the maps and briefing documents.
"He said to us as a group 'you have made a compelling case for the re-establishment of the line'. The rail minister said he is from Cumbria, a rural area like the area we cover. He said they have a London train maybe once a week, and there is no reason why Okehampton couldn't have a once a week London train."
Cllr Davies, chairman of OkeRAIL Forum that was set up initially by Devon County Council after the railway line was breached at Dawlish, said: "[MP Paul Maynard] certainly wants to listen to us and intends to come down and look around. We have to take things one step at a time. The first stage would be Exeter to Okehampton."
Geoff Burns from Launceston went on the trip with his wife and two of their children. He said: "It was a great experience. It gave us about six hours in London to walk around and sightsee.
"It was really well supported. There were people from Launceston, Bude, Chagford, Tavistock, Hatherleigh — they came from all over.
"I feel as many people as possible have to support the reinstatement of the Okehampton to Exeter line. I think it's important for the region. If there is a service that goes to Okehampton, which is 20 to 25 minutes from Launceston, it would be good for North Cornwall."
Bude-Stratton town councillor Peter Moores was also among the passengers. He was on one of the last trains out of Bude. He said: "It was a great day. It was quite jubilant, and there was a round of applause when the train pulled into Okehampton station. There was nothing but praise for Great Western staff from all of us."
Cllr Moores had travelled to Okehampton on the coach organised to pick up passengers from Marhamchurch, Bude, Stratton, Holsworthy and Halwill Junction, which was organised by Connect Bude, the Bude and Holsworthy rail action group.
The train was waved off from Okehampton by Conservative North Cornwall MP Scott Mann.
Dr Ireland added of the journey: "It was a very positive atmosphere, it was almost like a party atmosphere. We got nothing but positive comments.
"They had a prize draw on the train. The train manager entered into the spirit of it and announced the draw. They said we wanted to make your day special. We are getting requests now for the train to run again in October, which we are hoping to do.
"When the announcements were being made on the train —I've never heard this before — there were spontaneous rounds of applause from the carriages for Great Western staff.
"I think we need to give credit to the Great Western staff. There were two Pullman dining crews and I have to say their service was exemplary. I'd like to thank the Plymouth based Pullman dining team for their exemplary customer service and the chef for the quality of the food — people said to me it was worth coming on the train just for the Pullman dining experience! They could not do enough for all the passengers.
"When we changed trains they took on extra trollies and extra supplies and went through the train so all passengers were given an at seat refreshment service.
"Many Great Western staff gave their time voluntarily to be on the train. They went above and beyond the call of duty.
"With their level of service and commitment Great Western have shown they want to run this service to Okehampton for the benefit of our region."
Great Western also made the facilities in its first class lounge at Paddington available for the use of the passengers who had travelled from Okehampton, and Dr Ireland was also pleased with Great Western Railway's attention to detail — with stickers on the windows of the Royal Oke train indicating the service was running from Okehampton to Paddington.
"Great Western behaved with the highest sort of standards with regards to safety and passenger comfort. To their credit they got us into London only 35 minutes late," he added.
He also expressed thanks to the Dartmoor Railway Supporters Association and its volunteers, who gave their time to marshal the car parks at Okehampton.
Comments
To leave a comment you need to create an account. |
All comments 0