Moorland village bungalow plan refused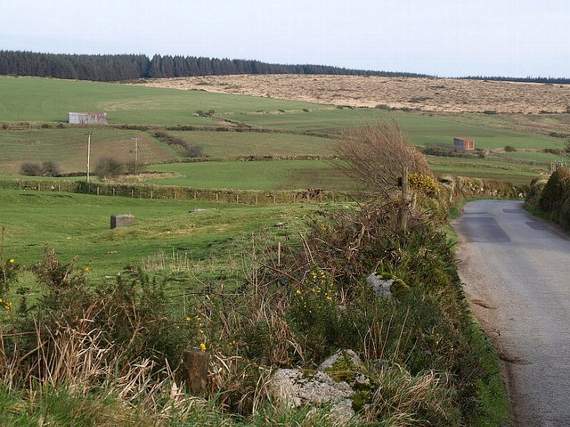 A VIEW out across the moorland of the Fowey Valley from the eastern edge of Bolventor. Picture Derek Harper CC-by-SA 2.0
()
Subscribe newsletter
Subscribe to our email and get updates right in your inbox.
A PROPOSAL to build a house for a local family in a moorland village has been knocked back by Cornwall's planning committee as it would "harm the natural character and beauty of the countryside".
The outline plans for a bungalow on the edge of Bolventor came before members of the East Planning Committee on the request of Altarnun Parish Council.
The planning officer had recommended the scheme for refusal, but the local council members felt they had outlined strong reasons for the house to be allowed.
Cornwall Councillor for Altarnun Adrian Parsons had supported the parish council in their request to bring the proposal before committee "in light of the housing shortage/crisis making it difficult for local families to get on the housing ladder".
In his submission to Cornwall Council's planning department, architect Charles Hunt described how the applicant was from a local family and had lived in Bolventor all his life; his partner too had lived in Bolventor and in Launceston all her life and they both worked locally.
The applicant was applying for permission to build his own house, said Mr Hunt. Earlier in negotiations, the planning officer had suggested that the proposal might be acceptable if it were an affordable home. But the applicant had stated he would not be able to afford to build an 'affordable home' to the requirements of space and other specifications set out by the local authority.
The Cornwall Area of Outstanding Natural Beauty (AONB) Unit objected to the proposal. They said:
"The site is located to the east of the limit of existing development on the eastern edge of Bolventor. It is widely visible from the A30, local network of lanes and land to the north and east. The construction of a new dwelling in this location would unavoidably extend the built form of Bolventor into its setting. The already uncharacteristic ribbon of residential development would be harmfully extended."
The applicant's agent said that two other locations had been considered but had been deemed unsuitable; one because local residents had objected to earlier schemes, and the other because it was further removed into the countryside.
The plot in question was owned by the applicant's grandfather and had been offered as a place for the grandson to build a home for his own young family.
But planning officer Helen Blacklock said that by extending the built form of the village out into the open moorland, the proposal would go against the of the Cornwall Local Plan.
In her report, Ms Blacklock said that the benefit in providing a new home did not outweigh the identified harm. She said: "A dwelling in this location would harm the distinctive natural character and beauty of the area…eroding the open character and appearance of this part of the Cornwall Area of Outstanding Natural Beauty."