Twenty tonnes of rubbish collected from Cornwall's roads in 2021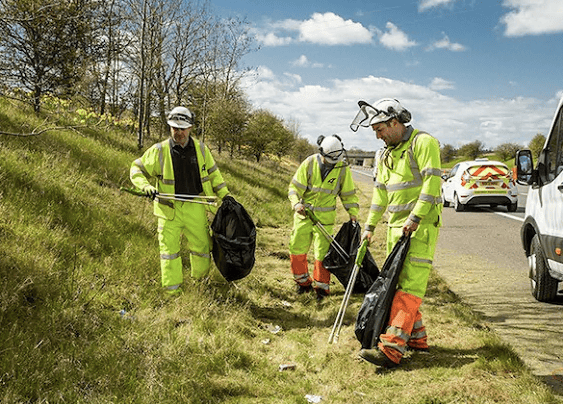 Subscribe newsletter
Subscribe to our email and get updates right in your inbox.
AS drivers head to the South West for their holidays, National Highways is issuing advice to keep the region's roadsides clear of litter.
Litter on the majority of A roads in the region is the responsibility of local authorities to clear, but in order that it can be collected safely National Highways often teams up with councils to co-ordinate any necessary closures.
Reducing the amount of roadside litter not only improves the lives of both communities and motorists, it has positive safety and environmental benefits and also provides a significant saving to local authorities in terms of time and money spent on clearing rubbish from the roadsides.
National Highways is calling on drivers to do their bit to reduce litter levels.
Julian Strong, South West Service Manager for National Highways, said: "Littering is a social problem across the country and our priority, working closely with our partners, is to keep our roads safe and well maintained for drivers and neighbouring communities.
"Litter is a huge issue that we're tackling daily. We value Keep Britain Tidy's commitment to eliminating litter, as well as their partnership in our efforts to keep litter off our roads.
"The simple fact is that if litter wasn't dropped in the first place it wouldn't need to be picked up. So, this is an opportunity to remind people that they too can make a difference simply by saving litter for the bin.
"Roadside litter is not just unsightly but it's a threat to wildlife and the environment and it can also be a safety hazard for drivers, can block drains and picking it up puts roadworkers at risk.
"Litter collections on our A roads are the responsibility of local authorities and hopefully we can get the message across that litter not only impacts people's lives but also has a significant economic impact for our councils across the region."
Local authorities, including smaller funded district and city councils, are still reporting a staggering amount of litter being cleared around their roads, a real financial burden for councils across the region.
Cornwall Council is currently midway through its spring cleanse of the A30 and has already collected around 3.8 tonnes of litter and debris this year.
The council collected 20 tonnes of rubbish from all of its A-roads in 2021, and Carol Mould, portfolio holder for Neighbourhoods at Cornwall Council, said: "One of our priorities is to promote and achieve a great environment for all.
"Cornwall is beautiful and we must all strive to keep it that way. There is no excuse for throwing litter on the side of the road, not only does it cost a lot of money to clean up, it can also pose a danger to other road users and can harm wildlife.
"Please take your litter home with you or dispose of it responsibly to help keep Cornwall clean."
National Highways, via its contractors, collected well over 1,000 bags of litter from its A roads in the South West during last month including 4.4 tonnes of rubbish and debris along the A30 and A35 in Devon and Dorset.
Comments
To leave a comment you need to create an account. |
All comments 0