Rowland's brace in vein as Bude Women lose at home to Teignmouth
Wednesday 22nd November 2017 4:00 pm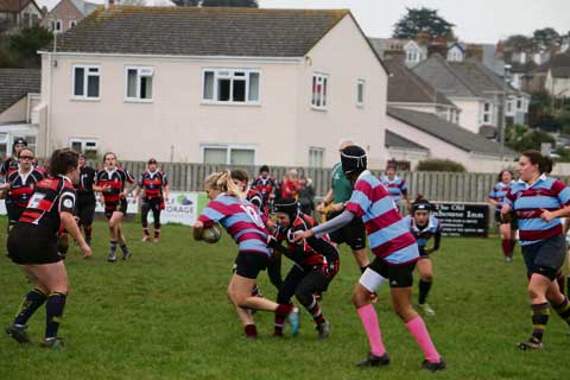 Bude's inside-centre Holly Stephenson looks to evade a Teignmouth tackle during their 31-20 defeat at Bencoolen?Meadow last Sunday.
()
Subscribe newsletter
Subscribe to our email and get updates right in your inbox.
BUDE Women were resplendent in defeat on Sunday as spectators were treated to an action packed 80 minutes against Teignmouth, which saw the Devon side leave Bencoolen Meadow with a 31-20 victory.
Bude started with the upper hand of 17 players, whilst Teignmouth, arriving with some borrowed players, still only had 13. Fortunately the teams were accommodating in accepting Bude players on the opposition so that a 15-aside game could be staged, and the crowd were certainly pleased with the result.
First blood went to the North Cornwall side, who thought they'd scored through Emma Glaze on the right wing only for her to be tackled just short of the try line.
However, the scrum was won against the head through the quick strike of Maxine Holder, which gave Bude a second wind and half-back Bonnie Hillier looped around to score to the left of the posts.
Fiercely contested possession ensued, with Bude looking more organised in attack but inexperience eventually told when Teignmouth managed to capitalise on a blindside mismatch and score an unconverted try to make it 5-5.
The first-half was dominated by Bude's forwards as they made ground in every attack, which allowed scrum-half Lisa Honey to get quick ball out to the backs. Play moved across the pitch like a pendulum with metres cleaved away at every step, and Bude finally secured their deserved second try through the hands of Nicole Rowland.
Despite Rowland's try, The teams were evenly matched going into half-time as Teignmouth capitalised on a tiny gap to make it 10-10.
Teignmouth's late score in the first-half gave them renewed vigour, and Bude struggled to keep up the pace and aggression that had marked the first 40 minutes, with a scrambled defence unable to stop the penetrating runs of first the Teignmouth centre, then Gemma Maynard, a borrowed Bude player, took a beautiful running line that scored her an easy try under the posts against her own team. Both tries were converted and Bude were in trouble.
The second-half allowed tighthead prop Hannah Pickard to pull on a Bude shirt, switching with captain Lydia Furse who joined the opposition. Pickard soon made an impact for Bude as it took three visiting players to pull her down. This created an overlap and Rowland ran down the blindside to finish her own breakaway try and reduce the gap to nine points.
Teignmouth attempted to gain ground through penalties as Bude's tackles slipped a little high, but their kicks failed to reach touch, instead finding prop Helen Gregory, who went on an excellent run, which eventually ended when she was dragged into touch.
However, from the lineout, Bude stole the ball, turning it into a fantastic attacking play from deep, which was only stopped by the efforts of Maynard resulting in a 22-drop out. Bude didn't relinquish the territory easily, and with ball in-hand, the forwards rained down on the defence, displaying fantastic team work with a final pop-up from Rachel Shackleton to a quick-thinking Pickard who was unstoppable two metres from the line, scoring her first try. Again the conversion was missed as Teignmouth held onto a four-point lead.
With just one try between the two sides, the energy levels soared, and the last 15 minutes of the game were a fantastic example of women's rugby. The enthusiasm of Bude to regain the ball however cost them a crucial penalty, which Teignmouth used to retain possession and territory, and from the 22 broke away down the blindside to score a final try under the posts for the last play of the game.
Again it was converted and Teignmouth had sneaked home by 31 points to 20.
Comments
To leave a comment you need to create an account. |
All comments 0