Calls for supermarket to ban the sale of polystyrene bodyboards
Thursday 13th February 2020 8:54 am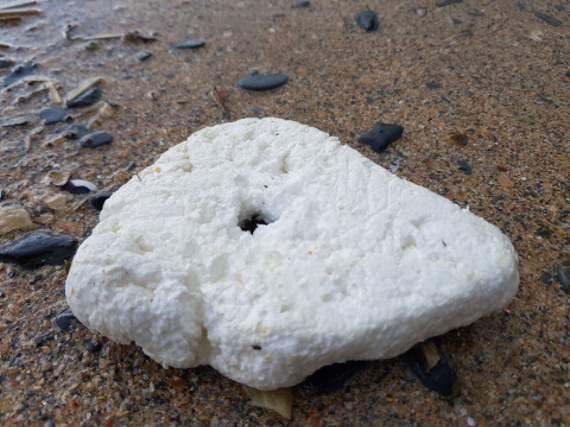 The remains of a polystyrene bodyboard found on a beach recently. Picture: Beach Guardian
()
Subscribe newsletter
Subscribe to our email and get updates right in your inbox.
A NUMBER of people have called on Sainsbury's to stop selling foam bodyboards in their stores nationwide, as a petition which started in Bude continues to grow online.
A petition, started by Eilidh Maccormick from Bude, has called on Sainsbury's to stop the sale of foam bodyboards after seeing them on the shelves in her local store.
This is just days after Sainsbury's announced they are looking to become net zero by 2040.
The petition, on change.org, is aiming to reach 500 signatures — but with that target almost met, Eilidh believes the online petition will continue to grow and hopes it will push Sainsbury's bosses to stop the sale of these boards.
The petition states: "These boards are cheap and not fit for purchase as they break in just a couple of uses.
"They break easily and polystyrene ends up breaking down into smaller pieces which then enters the food chain.
"They will never disappear, only ending up as landfill. Not only that, polystyrene, which is a petrochemical-based product, absorbs toxins from the sea and then poisons fish, birds and, to an extent, us.
"If Sainsbury's pledge to reduce their plastic use by 50% by 2050 is true, then make this change now to show you mean it and stop the sale of foam bodyboards now!"
Eilidh told the Post: "Sainsbury's had a large amount of those cheap, unfit-for-purpose, polluting foam bodyboards on sale at the beginning of the week.
"Many in the Bude community have contacted Sainsbury's to request they remove them from the Bude store, plus to stop selling them altogether — especially given their environmental press release this week.
"A petition was started and quietly today (Thursday, January 30) the boards were removed from the Bude store.
"However, the petition is still growing and they are still being sold elsewhere. I have been in touch with them to ask they stop sales nationwide and make it a public statement so other companies would be encouraged to do the right thing. After all, if you remove from one store then you can hardly defend keeping them in others!"
Last year, Bude resident Paul Crum lobbied his local Morrisons store and encouraged them to set up a recycling station for people to drop their broken bodyboards to avoid them going to landfill.
It is hoped the same lobbying will see a result with Sainsbury's.
Last week, Sainsbury's announced it would be committing £1-billion over 20 years to achieve net zero by 2040. They said they will be focusing on reducing carbon emissions, food waste, plastic packaging, water usage and increasing recycling, biodiversity and healthy and sustainable eating.
They will work collaboratively with suppliers and will ask suppliers for their own carbon reduction commitments.
The retail giant's current carbon footprint is one-million tonnes, which they have stated is a 35% absolute reduction in the last 15 years.
Within its aims, Sainsbury's has said it will halve plastic packaging by 2025, and has removed thousands of tonnes of single-use plastic across the business in 2019, including plastic trays, plastic bags and polystyrene pizza bases.
In 2016, 600 broken polystyrene bodyboards were found on three beaches in the Bude area in just one month.
They were collected by Neil Hembrow, the local BeachCare officer with Keep Britain Tidy, but the figures shocked local marine conservation groups and surf businesses, who have since encouraged visitors and local people to buy more sustainable surfing and bodyboarding alternatives.
In response to the sale of the bodyboards, a Sainsbury's spokesperson said: "Our bodyboards are durable and can be reused over many surfing seasons. They also come with advice on how to look after and dispose of them responsibly."
Comments
To leave a comment you need to create an account. |
All comments 0