Community spirit celebrated in town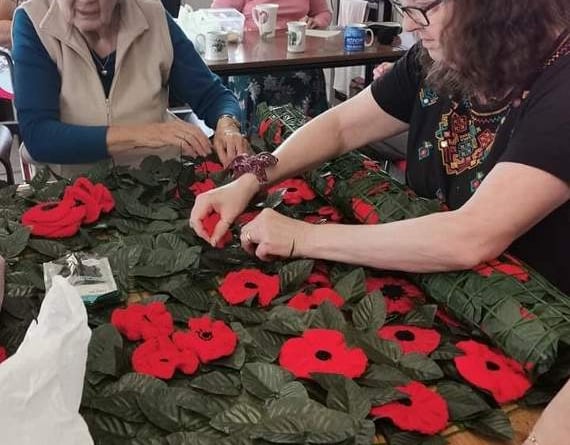 Whether it's making a Poppy Wave for Remembrance, creating a 'Callington during Covid' tapestry, helping to plan the Queen's Jubilee events in 2022 or creating a What's On website for the town, members of Callington Town Forum will be found helping out.
Subscribe newsletter
Subscribe to our email and get updates right in your inbox.
So says Aileen Moore – she's secretary of the Callington Town Forum, or One Callington as it's known online.
In the last 16 months, the forum has been reinvigorated with new committee members and has widened its focus from a purely business angle to take a whole community view.
Aileen says that the Forum committee don't like to draw attention to themselves as individuals – and in fact, everyone in the town by default is a member by virtue of living in Callington – but she was happy to talk to us here at the Cornish Times to highlight some of the positive projects One Callington is involved in.
"We moved here 18 years ago because my late father had become too ill to live alone, and the community spirit here took our breath away," she says.
"We'd never experienced such friendliness. Everyone was very welcoming."
It's easy to get bogged down in negative news, says Aileen, but when she looks around, there is much to be proud of and celebrate in the Callington area.
"The Forum is now part of a group that redistributes food coming up to its sell-by date, Cornwall Food Action," she explains.
"They get a call that food is coming in to South East Cornwall, they then contact us via the forum, and we then get the food to people. It's things like potatoes, fresh fruit and veg, eggs, bread and flour."
The food is passed through local contacts to people who don't have referrals to the Foodbank, but whom it's known are on a low income and would appreciate an extra boost – the chance to have a few extra pennies in their purse that week, as Aileen puts it.
"Just recently we had a massive delivery of pain au chocolats. The thought of all the children coming home from school and smelling those – it was great."
The Forum's 'Poppy Group' were instrumental in creating the famous poppy wave installation for last year's Remembrance, and they'll be helping decorate the town again next month.
In the meantime they're also busy sewing beautiful embroidered scenes for a 'Callington during Covid' tapestry: six panels will be displayed in the Town Hall as a permanent legacy and thanks to the keyworkers and volunteers who supported local people through the pandemic.
One Callington will be working closely with the Town Council towards the Queen's Jubilee events in 2022, and it works in tandem with other groups and businesses to stage events and activities – such as the successful Picnic in the Park in August.
And the Forum has recently been awarded £7,000 in National Lottery funding to develop a 'What's On' website for Callington locals and visitors.
"Local heroes" are regularly celebrated via the One Callington Facebook page, among them most recently the Callington Soup Run team, and a resident of the town who provides a lot of joy to people through his nature videos and commentary online.
"They don't think they're special, they are just people doing what they've always done, but to us, they are special. It helps to reinforce to people that yes, Callington is a decent, hardworking community that supports each other."
Has your town or village got a lot of community spirit? We'd love to hear about the projects, groups and initiatives going on near you. Get in touch at [email protected]