Flower tent bursting with colour
Tuesday 9th August 2022 6:00 am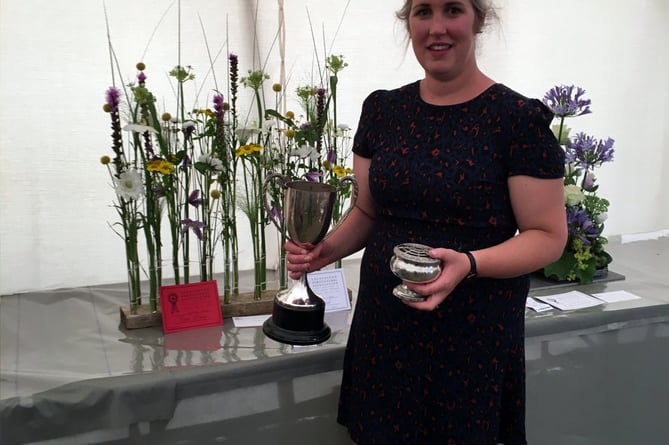 ABOVE: The floral art prize winners. Picture courtesy of Paul Hamlyn RIGHT: Charlotte Dawe was surprised when she received the trophy for best exhibit in the floral art tent. Picture: Zoë Uglow
Subscribe newsletter
Subscribe to our email and get updates right in your inbox.
There were many compliments flying about inside the flower tent at this year's Launceston Agricultural Show with some truly beautiful displays taking centre stage.
Janet Crossman, the chairman of the floral art section at this year's show, said: "We have had a wonderful response — the programme suited just about everyone it seems.
"We had an overall theme of 'natural elements' you see, and I think everybody can do something with it, it is such a good all around theme.
"We have had many compliments throughout the day of how wonderful it looks in here, and I have to agree. I think a lot of it is down to the staging. We have a lot of different heights of staging, with some low and still and others high and bold, it has helped things flow well in the tent."
And she wasn't wrong, there were bursts of colour amongst some wonderfully serene arrangements, providing something for everyone to enjoy.
Despite the calm nature of many of the creations, there was still a competition to be had. Everybody had really tried their best to pull something out of the bag for this show, including Charlotte Dawe of Launceston who had a last minute change of design only the weekend before.
Charlotte actually started showing her floral art designs when she was a member of the Young Farmers' Club: "My grandma encouraged me to enter one of the floral competitions in the YFC tent. I made an arrangement in a teacup and to my surprise won. I thought 'maybe I'm good at this' and well, the rest is history."
Charlotte went on to work for Flower Scene in Launceston for more than 14 years but recently, after the pandemic, decided it was time for a change and began teaching floral art at Duchy College.
"It is great to be able to share my love of floral design with the younger generation and I would highly recommend anyone with an interest in flowers take part in these competitions — it is a great way to develop your own skills and gain some all important experience."
For her efforts, Charlotte walked away with the 'Best Exhibit' trophy.
Upon receiving her prize, she told the Post: "I was shocked but delighted. I haven't entered the show for a few years so to win best exhibit is very surprising. I am very pleased. These types of competitions really make you think outside the box and it is lovely to come along and see what is trending in the floral art world."
Charlotte had been up against tough competition, with her former mentor collecting the most points.
Pat Penno came first in class 4 'A Tapestry Exhibit – Foraging Feasts' and class 7 'An Imposed Exhibit – Wire, Wood and Wool', and won the most points at the show. 
Pat has been working with flowers the majority of her life. She has been a part of Launceston Floral Art Group for 15 years and has been taking part in Launceston Show since 1979. 
Pat said: "We tend to arrange the flowers when we get to the show, or we transport them in the car. 
"For the foraging feast tapestry, I went out and collected little things, some from the garden, the crab apples are from a tree in my garden.
"A tapestry is basically needlework, so it should all flow together." 
She added: "I think this is one of our best-looking shows yet."
The final prize to be awarded on the day was the 'Public's Choice'.
The public were given the difficult task of voting for their favourite entry in the whole flower tent, and to her great surprise Rachel Pascoe of Launceston was the recipient of this coveted trophy.
Rachel said: "I am very surprised, it is a bit of a shock actually. This is only my second time entering. I don't do it professionally, I just really enjoy flower arranging so thought 'why not have a go?'
"I've now been encouraged to join the local flower group which is exciting. I would highly recommend others take part — if it is something you enjoy doing then why not!"
Comments
To leave a comment you need to create an account. |
All comments 0