Police outline case that led to man being jailed for life for murder of Plymouth teenager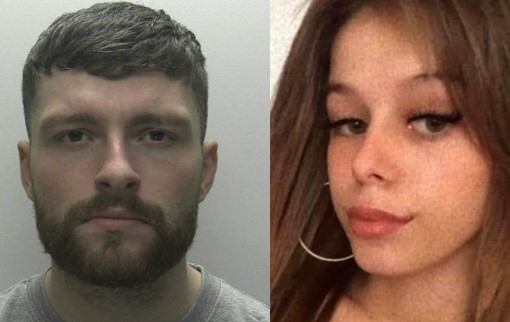 Cody Acland and Bobbi-Anne McLeod
(Devon Cornwall Police )
Subscribe newsletter
Subscribe to our email and get updates right in your inbox.
A Plymouth man has been jailed for life after brutally murdering an 18-year-old woman in a sadistic and prolonged attack, committed to satisfy his morbid fascination with serial killers. He must serve a minimum term of 30 years and 190 days.
Cody Ackland, 24, struck Bobbi-Anne McLeod on the head with a claw hammer at a bus stop in Leigham, Plymouth, on the night of Saturday, November 20 last year.
He abducted her into his car and drove to Bellever Forest car park on Dartmoor where he repeatedly attacked and then murdered the teenager.
Ackland then went to Bovisand, stripped Bobbi-Anne and dumped her body in undergrowth. He later threw away her clothes in an allotment before going out to party with friends.
Three days later he turned himself in to police and confessed to the murder, telling detectives where he had disposed of Bobbi-Anne's body.
Ackland, from Southway, pleaded guilty to murder at Plymouth Crown Court on 5 April and was sentenced today, 19 May.
The court heard that Ackland was leading a double life and had a secret - a morbid interest in a significant number of serial killers from around the world, particularly US killer Ted Bundy whose kidnap and murder of young women bore similarities to Ackland's crime. There were pictures of Bundy and the weapons he used on his phone.
In the days and weeks leading up to Bobbi-Anne's death, Ackland searched the internet for information about serial killers' crimes, their aftermath and the bodies left behind. He kept a huge supply of grisly images on his phone, depicting dismembered or dead bodies, post-mortems and murder scenes.
Over the days and hours before the murder Ackland browsed for remote locations on Dartmoor and for potential weapons.
Bobbi-Anne's disappearance
The court heard that Saturday, November 20 was a normal family day for Bobbi-Anne. She left her Leighham home around 5.45pm to see her boyfriend.
She told her father she loved him and headed to the nearby bus stop on Bampton Road. Bobbi-Anne was seen there between 6.05pm and 6.15pm, looking up the street, checking for the bus.
But Ackland was out in his car and about to pass through Leigham. Phone data put him in the same location as Bobbi-Anne around 6.55pm.
By 7.15pm her family had not heard from her and they were starting to worry.
Meanwhile, a local man stumbled across Bobbi-Anne's mobile phone and her AirPods case at the bus stop; he gave them to the bus driver who arrived at 7.23pm but they both assumed someone had lost them.
At 9pm Bobbi-Anne's boyfriend phoned the family home asking if she was still there. Her family called friends and went out looking for her. Concern began to spread on social media and the next day members of the community joined the search.
A local schoolboy, who had seen Bobbi-Anne waiting for the bus the night before, found her AirPods on a path behind the bus stop on Sunday morning.
Devon and Cornwall Police launched an extensive missing person search and public appeal for help.
On Tuesday, November 23, Ackland left work at a valeting department of a Plymouth garage around noon and never returned.
At 1.30pm he walked into Charles Cross police station in Plymouth saying he had information about the Leigham disappearance.
Ackland was arrested on suspicion of murder. He asked for a map and directed officers to Bovisand, saying Bobbi-Anne could be found in the lane that led to the beach cafe. All focus turned to finding Bobbi-Anne in the hope that she was still alive.
Around 3.45pm detectives found her body within vegetation around 15ft down a steep incline halfway down the densely wooded lane. She had died from multiple injuries to her head and face inflicted during a prolonged and frenzied attack.
Investigators uncovered 3, 216 images on Ackland's phone, many of a disturbing and dark nature and reminiscent of horror films.
Senior Crown Advocate Richard Posner told the court that Ackland's interests were 'sinister and relevant to his motivation', saying: "His interest in the macabre presents as deep-rooted; a fascination with death, murder and murderers and the means to commit murder."
He had viewed and kept extreme and graphic images of dead and dismembered people, bodies of purported murder victims, post-mortems, deposition sites and artefacts linked to murders such as weapons or soiled and tainted items. Ackland possessed images linked to serial killers and historic missing persons appeals by US police.
On sentencing, His Honour Judge Robert Linford told Ackland that his act was 'determined savagery' saying that he was satisfied from the evidence that he intended to kill.
"This was a prolonged and awful ordeal for this poor person. She had the whole of her life in front of her until it was brutally and savagely snuffed out by you," he said.
"You were quite clearly planning murder and you did murder."
Detective Inspector Stephanie Blundell, Senior Investigating Officer, from Devon and Cornwall's Major Crime Investigation Team, welcomed today's sentence but said today did not bring cause for celebration.
She said: "This was a shocking and brutal crime which led to a young life being tragically cut short and changed the lives of Bobbi's family forever. The details of the case heard today were harrowing, particularly for Bobbi's family.
"I would like to thank the investigators who worked on this case, including the detectives, uniformed officers, forensic investigators and all of the support teams who conducted themselves professionally and sensitively in a case of such distressing nature.
"I would like to commend Bobbi-Anne's family – Donna, Adrian and Lee - for the strength, courage and resilience they have demonstrated throughout the investigation process and in particular, today's hearing.
"The senseless and evil acts of one man have devastated their lives and I hope that today's outcome brings them a sense of justice.
If you've been affected by anything in this news article, support is available. Please contact the police by email:  [email protected] or telephone 101.
Comments
To leave a comment you need to create an account. |
All comments 0